Our Staff
Funeral Directors
The senior funeral directors have amassed almost 40 years of experience between them. They will make all arrangements and provide essential services to the relatives of the deceased at a time when they may be in a vulnerable and emotional state. Always adopting the highest standards, our directors will offer advice and assistance, helping and guiding the bereaved to choose a funeral in accordance with their wishes. Our directors will liaise with clergy, doctors, church and public cemetery/crematorium administration, take care of disbursements on behalf of the families and advise on registering the death.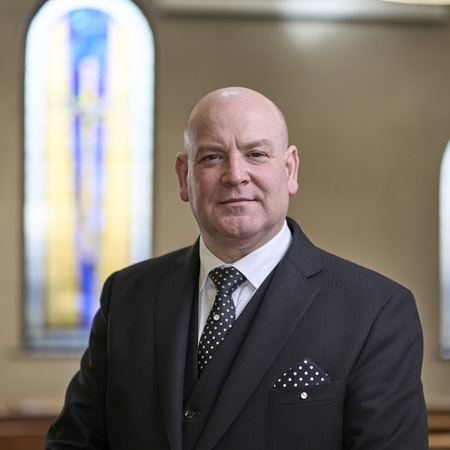 Bill Reid
Managing Director / Funeral Director
Bill, alongside his wife Anne have been involved in funeral care since 1991 when they purchased Douglas Funeral Directors in Ballynahinch, a company which has links to Bills family since 1926.
In 2007, Bill and Anne began their involvement in Ronnie Thompsons with the purchase of a majority stake in the company. With a clear vision for the future, Bill has overseen continual development in all areas of the company including the upgrade of the company fleet, investment in both workplace learning and performance training as well as the latest funeral management software, printing and publishing equipment. This vision for excellence culminated in 2022 with the expansion and complete refurbishment of our current premises, an investment that will continue to see Ronnie Thompsons provide the very best service to our clients.
Bill's and indeed the company's ethos is to dedicate ourselves to serving families from all backgrounds, religions and faiths with equality and kindness, to offer our knowledge, expertise, staff and facilities as a resource to those families at a competitive cost. Bill says 'it is an immense privilege to be asked to serve a family through their bereavement and we endeavour to provide the same care which we would give our own nearest and dearest.'
While continuing to be actively involved in the day to day running of the company, Bill is also a member of the Executive Committee of the N. Ireland Federation of the National Association of Funeral Directors (N.A.F.D.). A dedicated family man, Bill is married to Anne and together they have 4 children. With his family being from Ballynahinch and as a committed Christian, he serves as an Elder in Edengrove Presbyterian Church, he also has strong links to the farming and business communities.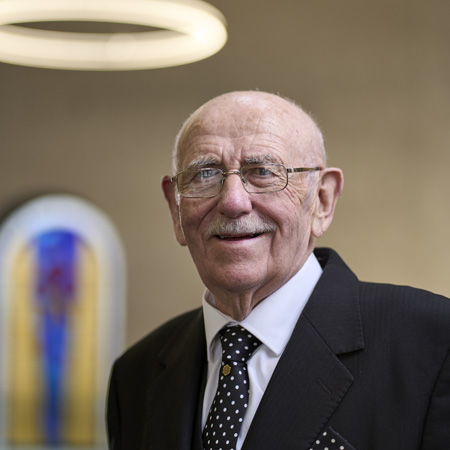 Ronnie Thompson
Co-Founder/Conductor/Consultant
A familiar face to many, Ronnie Thompson has been synonymous with the funeral industry in the Greater Lisburn area for more than 60 years. Ronnie began working alongside his brothers Campbell and Jim when the family company was based on Longstone Street, but the sale of the company to a multi-national corporation prompted Ronnie alongside his wife Jeane to open their own independent Funeral Directors.
Beginning with a small, modest office in the village of Moira, before moving back into the centre of Lisburn, Ronnie and his wife, Jeane quickly established a reputation for compassionate and professional excellence. This growing success led Ronnie to make the decision to build Lisburn's only purpose-built funeral premises, a decision which has kept the company at the forefront of the industry.
While no longer involved in the daily running of the company, Ronnie still conducts the occasional funeral and continues to provide his advice, his wisdom, and his experience to ensure that Ronnie Thompson remains The Premier Independent Funeral Directors.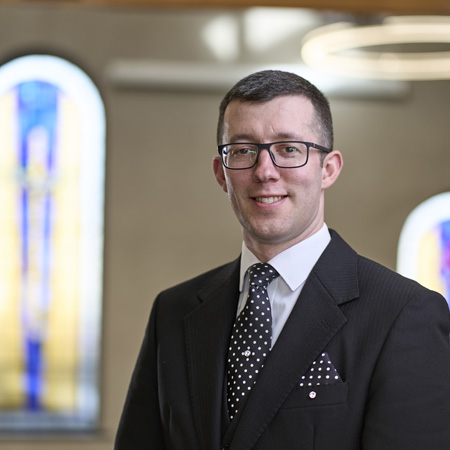 David Jess
Funeral Director
David has been working in the funeral industry for ten years and within Ronnie Thompson Funeral Directors his duties include arranging and conducting funerals. A Lisburn man, he was educated at Tonagh Primary and The Wallace High School.
Having gained experience with a large funeral firm in Belfast since 2010 and the imminent sale of the company to another multinational organisation, David joined our team here on the Ballinderry Road, in July 2018.
On reflection he feels it has been a positive transition from day one.  David says, "That as independent, family owned funeral directors who take great pride in what we do, we offer a sincere and professional service, with continuity of personnel, together with a personal touch."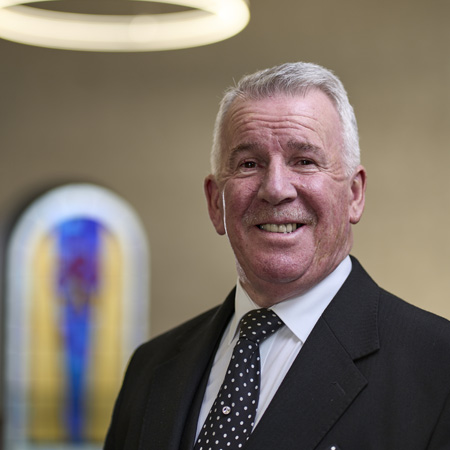 John Wallace
Funeral Director
John has enjoyed a variety of careers over the years. Beginning his employment in the motor vehicle industry, John had the pleasure of working for the iconic DeLorean Motor Company, before moving on into the construction industry where he served as a supervisor for a number of years.
With family connections to the funeral industry in the Dromara area going back over 50 years, John moved into funeral care based in the Portadown area before eventually joining the team at Ronnie Thompsons in 2018.
His role as a full-time funeral director gives him immense job satisfaction, the most rewarding role of his career, he considers it a privilege to guide families through their bereavement journey. From the first call, to arranging and conducting the funeral, along with any additional services you may require, caring is at the very heart of John's approach, and he is proud to not only serve our clients but to establish continuing friendships with many of them.
A proud Dromara man, he is married with 3 children. He is well known in the Pipe Band arena, serving as a drummer in Waringsford Pipe Band, which included a World Championship win in 1987. John is also a keen fisherman and outdoorsman.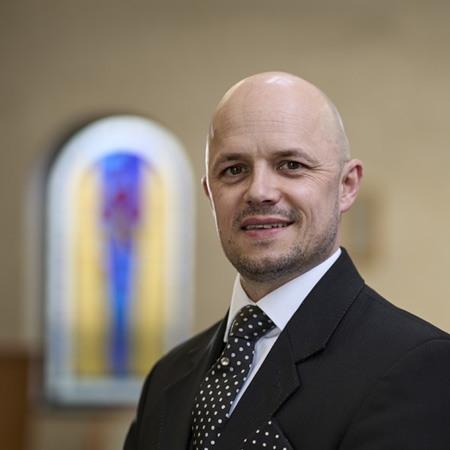 Jamie Bracewell
Operations Manager
Jamie has been around the funeral industry since he was a teenager, he began his career in the industry as a funeral operative before becoming a fully qualified Embalmer in 2011.
With the continued growth of Ronnie Thompson's over the years, Jamie recently took on the role of Operations Manager. Within this role, Jamie ensures the smooth day to day running of many aspects of the company, liaising with our funeral directors, office staff and support staff to help provide the professional service our clients expect.
Jamie also continues to operate as our Senior Embalmer and funeral operative as he enjoys this aspect of the business immensely.
His aim is to provide the highest standard of professional excellence and compassionate care to the families and friends of our community in our first-class facilities.
Born and brought up in Lisburn, Jamie attended Harmony Hill Primary and The Wallace High School, he is married to Christine, and together they have a son and 2 daughters.
Related Information
---
---
All enquiries are welcome, 24 hours a day, either in person, at our premises,or by calling
028 9756 2366